Rotterdam, 12 april 2022 – One quarter of young professionals is unhappy with their job. Against the background of the Covid 19 pandemic, these young professionals are increasingly unhappy when it comes to their management, advancement opportunities and company culture. On the other hand, 3 in 4 young professionals are happy with their job. More than a third would even rate their job an 8 or higher. Interestingly enough, the reasons for happiness at work are not the same as those that lead to an application in the first place. This is according to research by career platform Magnet.me.
1 in 4 young professionals unhappy with job

In previous research in 2019, 19% of young professionals expressed unhappiness with their job. In December 2021, this percentage rose to 24%. Covid 19 seems to be an important contributor to this increasing unhappiness. For 44% of unhappy young professionals, the pandemic had a negative effect on their happiness at work.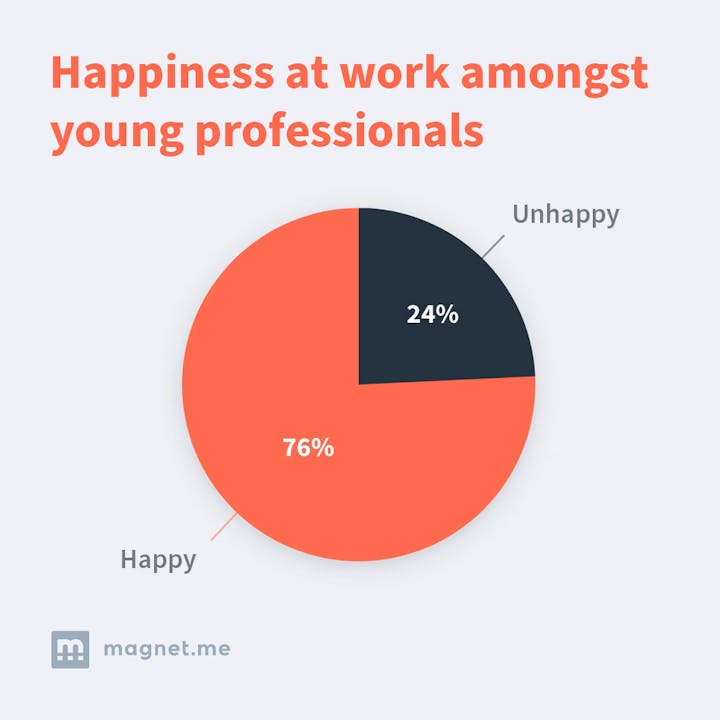 Magnet.me CEO Laurens van Nues: "Despite the many news outlets that showed mental health was declining among young people, we were shocked to find out that one in every four young professionals is unhappy with their job. If you consider that you spend some 8 hours a day at your job, this is very alarming. Major changes in the labor market, decreasing face to face contact and increasing isolation make finding a job you love and loving the job you have a real challenge for young professionals."
Management main reason for unhappiness

When asked for the main reasons for their unhappiness at work, 49% replied it could be found in their team leaders and the way they are managed. With a second and third place respectively, advancement opportunities (46%) and company culture (45%) are also main contributing factors to workplace unhappiness.
Though these numbers do not paint a consoling picture for employers, some positivity may be found in the notion that, unlike covid, all of these factors are internal and can be remedied by revisiting the way your company works.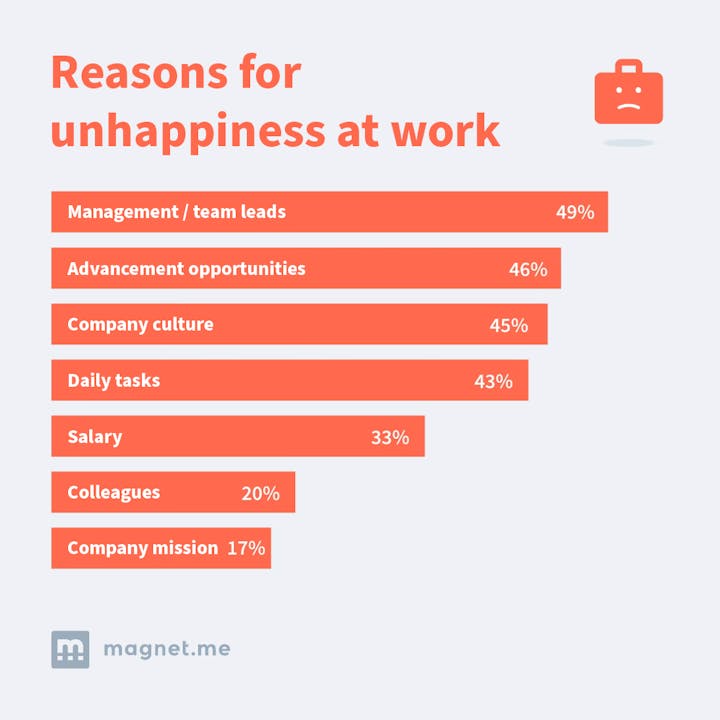 Van Nues: "The easiest way through which employers can prevent or remedy possible unhappiness amongst employees is to give a true impression of what it is like to work at their organization. Forget marketing slogans or banners and focus on the real people and real faces behind the company. Don't just limit yourself to vacancy texts, but also share testimonials, photos and videos of employees and the office as well. That way you'll attract applicants that are drawn to your company culture, as well as the roles you're offering. It's a small step that will yield big results."
Connection is key

Human connection seems to be the most important reason for young professionals' happiness in their job. With 55%, contact with colleagues is the main driver for workplace happiness. This is followed by advancement opportunities (49%) and company culture (41%), which form an interesting juxtaposition with the main reasons for unhappiness.
The fact that the opportunity to develop yourself and the culture of your workplace are both main reasons for happiness, as well as unhappiness, arguably makes them even more important. Employers can clearly get this right, or not.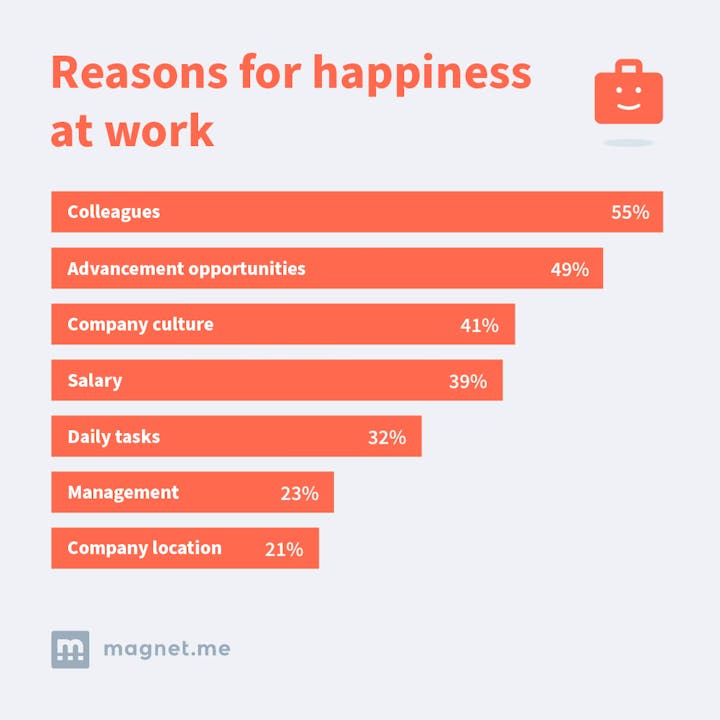 Van Nues: "The data is very clear when stating that connection is key in young professional workplace happiness. The interpersonal aspect of working together, whether that is with peers, colleagues, leaders or the company as a whole is a decisive factor in establishing workplace happiness."
Different criteria in application process

When young professionals start out looking for job opportunities, they tend to have slightly different criteria than those that will determine their eventual workplace happiness. Advancement opportunities (55%) and company culture (32%) are still interesting prospecting fields, once more emphasising their importance.
However, very little attention is paid to potential colleagues and management. This is in stark contrast to the main reasons why young professionals are happy or unhappy in their job. Only 12% of young professionals consider colleagues, and only 11% of young professionals consider management important factors when deciding where to apply.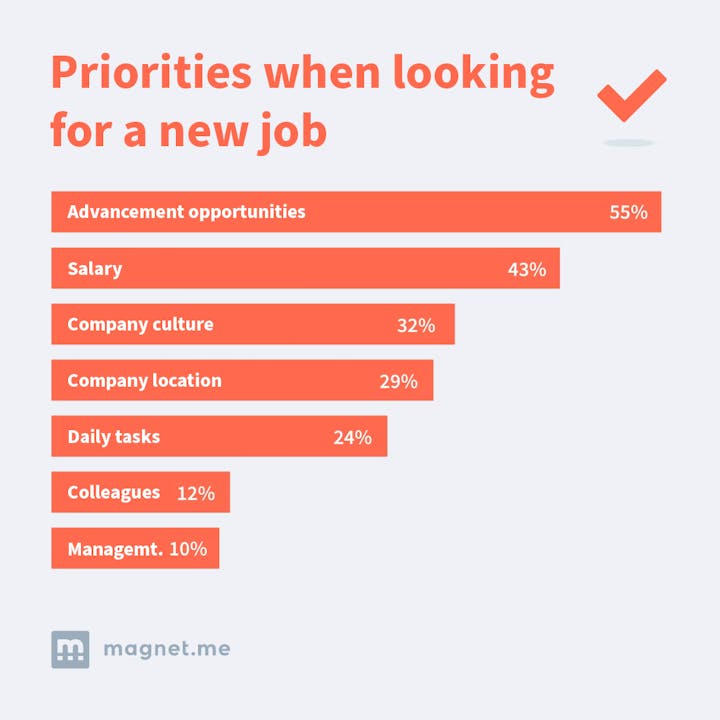 It's no surprise that the people you surround yourself with on a daily basis have a large impact on your wellbeing. Colleagues are essential in determining young professionals' workplace experience. The fact that job seekers do not always have the same criteria for choosing their job as those that will eventually determine their happiness in this job, presents an opportunity for themselves, but for employers as well, that is often overlooked. An introduction to colleagues and management can already be made in the first phase of the recruitment funnel.
 
Van Nues: "I would advise job seekers to really acquaint themselves with potential employers. During the application process, really try and see if the people, role and company are a good fit for you. Do you see yourself working with them for 8 hours a day? Do you have a click with your new manager? It's just like dating, it only works if both parties make an effort to see whether the other party is a good match. 
Editorial note

Respondents answered questions about their current job and previous job search. 50% is female, 49% male and 1% withheld from mentioning gender. This research also refers to previous research by Magnet.me which can be read here. For further elaboration please contact Magnet.me.