Even the best students need a little break from time to time, and what better way to take a break than by grabbing a quick lunch. They say that you officially need a short break every hour and a long break after four hours of studying. At Magnet.me we don't like sticking to every little rule, so let's say that you start studying at 12, you definitely want to take a lunch break by 1.
We've made a list of all the best, and most affordable (because you're students after all), lunch places in Rotterdam, so you don't have to spend valuable learning time on finding a spot for lunch.

Yes, obviously we all know tea lab. Right? This place is perfect for meetings with your study group. The food is super affordable and even though the place is decorated very simply, it still makes for a perfect meeting environment. Even for a healthy snack, this is a really great place to go. Want to go for a real treat, then order the high tea here, perfect for brunch on a student's budget.

Cheapest lunch item on the menu: cheese toast – 3.50 euros
Adress: Westewagenstraat 80, Rotterdam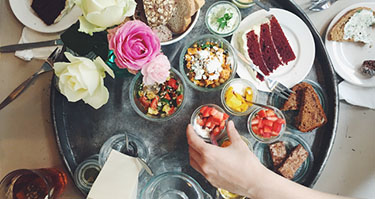 A true undiscovered gem, although that's debatable given that I am telling about it right now. Even though there is a big sign that says "there is no toilet, this is not a restaurant", they make darn good Italian sandwiches. You can come here to buy wine, Italian lemonade, or enough cannolis for your whole entire Italian family, but the best thing is definitely the sandwiches. For a small price, you get a sandwich which has all the mozzarella you could possibly want. You might pick up some Italian sentences, since the people that work there always start speaking to you in their mother tongue.

Cheapest lunch item on the menu: Vegetarian Panini Ibla – 5 euros
Adress: Oostzeedijk Beneden 229, Rotterdam

---

Also, when you are having a break in between trying to memorize the whole 800-page textbook they gave you, you can make a profile on Magnet.me and start looking for your next challenge after you pass all your exams. You can find the perfect graduate job, internship or traineeship that matches your profile.
---

Well, well, well. No surprise here. Everybody should know this place by now, but in the case that you are one of the 3 people that don't know about it, Happy Italy is about as cheap as it can get in Rotterdam. A €5.00 full big circle pizza and a €5.50 for a big Caesar salad is… I mean, enough said. No, it's not a mistake, so next time, go check it out!

Cheapest lunch item on the menu: Antipasto Misto – 4.25 euros
Adress: Binnenrotte 102, Bergweg 335, Cor Kieboomplein 120, Rotterdam


This little place is very close to the Magnet.me HQ and thereby one of our favourite lunch places. If you want to have a special lunch and also a good Instagram picture than this is your spot. Two lovely people work here, that are more than happy to help you to a bubble waffle. Our recommendation would be to go for the sushi sandwich, something I've never eaten anywhere else before.

Cheapest lunch item on the menu: Taro buns – 4.95 euros
Adress: Hoogstraat 67A, Rotterdam


A boring old green-only salad. No way. A salad that you can completely customise yourself with all things healthy starting from 8 euros. Yes, please! This place has gotten 56 out of 61 five star reviews on TripAdvisor and has even gotten an excellent certificate. Then you know that they are doing something right!

Cheapest lunch item on the menu: Pumpkin soup – 5 euros
Adress: Goudsesingel 235A, Rotterdam


Solfood is the best place to go when you just have a moment to grab a bite but also want a quality sandwich. And a quality sandwich it is. Their best is definitely the carpaccio sandwich, I'm still dreaming about it. Combine this with a nice rose lemonade, and you're ready to go.

Cheapest lunch item on the menu: Italian Sandwich – 5.50 euros
Adress: Pannekoekstraat 18A, Rotterdam


Who says you can't have lunch with cookie dough? Some might call this a guilty pleasure,  I say it's a necessity. If you just passed an exam and you really want to celebrate, go to Baker's Dough and fill your own cup with cookie dough, Nutella, and M&M's. You'll be motivated to study for every test after that.

Cheapest lunch item on the menu: CHOCOWOCODOUGHDAAA – 4.50 euros
Adress: Pannekoekstraat 82A, Rotterdam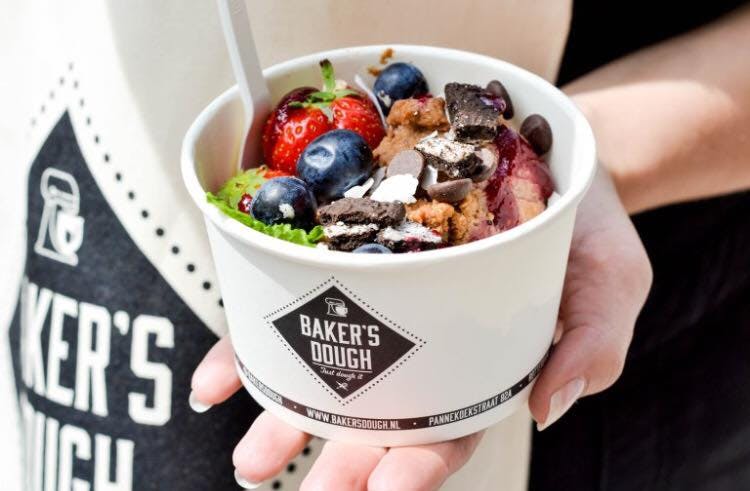 Are you already hungry to study hard and get a successful career after your studies? Go to Magnet.me to find the perfect job, business course, internship or traineeship.