After conducting research and publishing the Magnet.me Young Professional Report 2020, we wanted to do more. We've found out that company culture is a big factor contributing to young professionals being unhappy at work. To give everyone who is just starting out with their career the tools to change this, we've received some useful insights from thé company culture experts: Corporate Rebels.
They've been featured in The New York Times, Forbes and BBC and are applauded by clients ranging from Microsoft to ASML, Kering and Hugo Boss. And those are only a few of Corporate Rebels' accomplishments after researching, interviewing and publishing on the topic of breaking free from corporate misery by initiating changes that make work more fun.
The result of all this work? A collection of advice that doesn't only benefit senior executives aiming to reorganise their company's way of working, but also provides value to young professionals keen to make their career successful and fun. Spoiler: success and fun aren't mutually exclusive.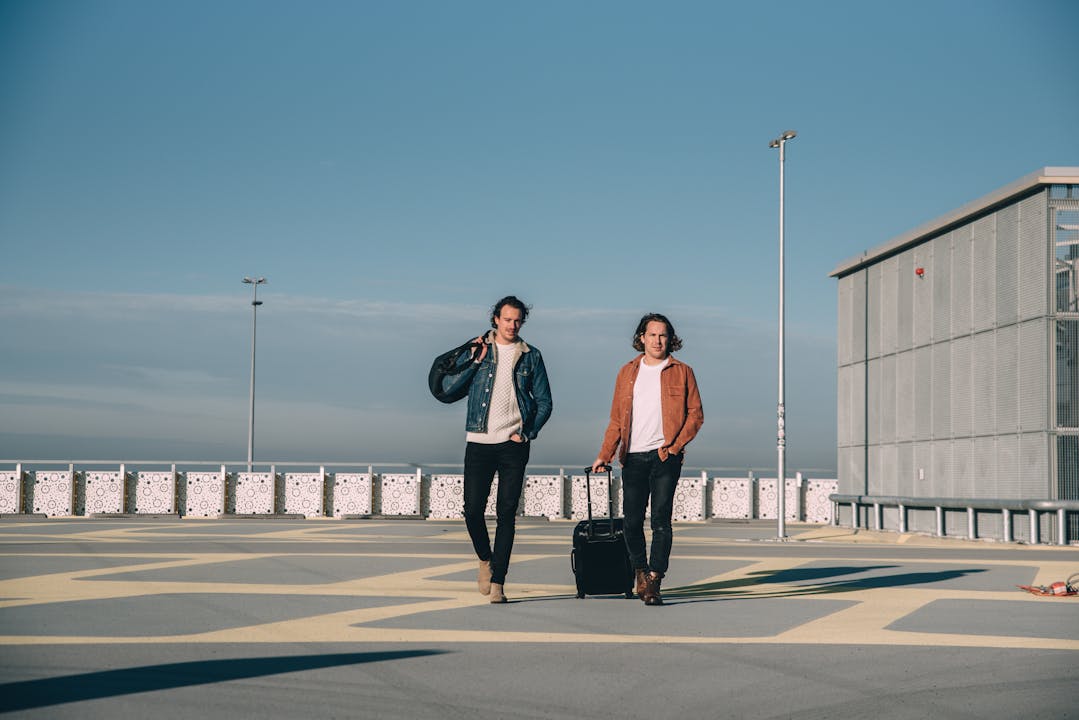 Why company culture matters
It might not be the first thing that comes to mind when job hunting, but it should be: company culture. Unlike factors such as salary and status that seemingly have a direct effect on your life, company culture is more difficult to grasp, yet equally (if not more) important.
Company culture can be defined as the company's personality and includes work environment but also the company's mission, values and goals. Keep in mind, this is a simplistic way of looking at it for the sake of understanding how company culture affects you and how it can be changed.
Changing a company's culture isn't (and shouldn't be) your goal when starting your career. Such change requires time and boldness, usually from more than one ambitious person in the company. However, grasping what company culture is and recognising the difference between 'bad' and 'good' company culture is definitely beneficial for your personal experience in your professional life.
The 8 trends during job applications
Corporate Rebels founders Joost Minnaar and Pim de Morree researched what inspiring organisations have in common and bundled their findings into 8 trends. Look at it as a list with opportunities for change. No company embraces them all, but adopting a couple can make a significant difference.
Let it guide you when trying to find a company to work for with great culture or let it be an inspiration to make your current workplace more progressive. Use the overview of questions below during a job interview. To read more about the 8 trends, go here.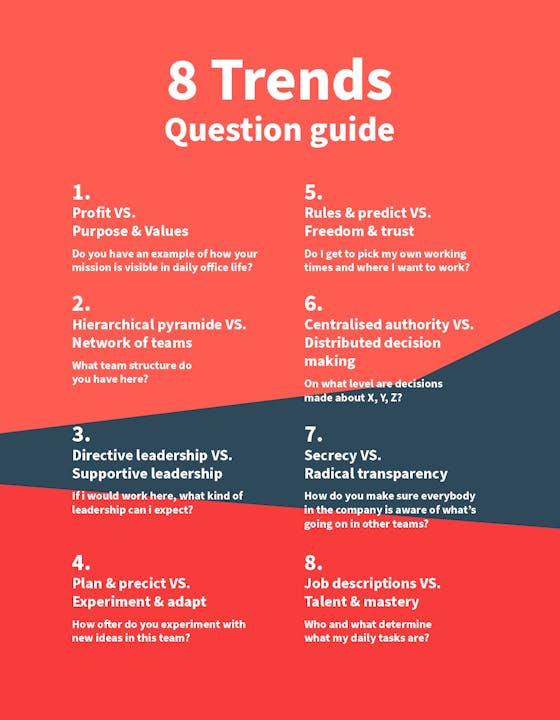 Bottom-up! What you can do at your current workplace
The 8 trends are helpful when you try to learn more about company culture during job interviews but also serve a great purpose if you've already got a job. Here's how:
Critically evaluate your current employer
Put the 8 trends and the company culture at your work side by side and critically evaluate if your employer ticks any of the boxes that make up a progressive organisation. If yes, great! If not, take the initiative or move on to the next employer.
Making change happen isn't easy. But once you take the initiative and gather people around you that are willing to do the same, a lot is possible. Like CEO of Plugify Eline Leijten said: "Change always needs a group of people to back it up". Corporate Rebels already dismantles the idea of a top-down hierarchy where decisions can only be made by leaders. So follow their lead and see what you can do to make work more fun.

Got an employer that's equally enthusiastic about changing their company culture for the better as you? Let's get to it! Use this Corporate Rebel canvas to guide you through the steps of making work more fun.
Tried to change something and failed? Ask yourself if it's worth it to keep pouring your energy into an organisation that doesn't align with your values. It most likely also means you dread going to work. Considering you spend most of your hours during the day there, you might want to move on to the next job. Take the lessons you learned at your current employer and combine them with the knowledge you learned from Corporate Rebels to find a job you love on Magnet.me.
No matter whether you're looking for a job you love or working for an employer you don't want to leave, you can be a corporate rebel. Research has shown that company culture influences how happy you are with your job. So it's up to you to prioritise it in your professional life. Let the 8 trends and Corporate Rebel canvas guide you as you turn your career into one that you love.