Just because you are at university doesn't mean that you can't stay fit and healthy during your studies. Since the most regular meal that you probably eat (several times) every day is pasta pesto, we compiled the best affordable gyms for students in Utrecht. Find the one that is closest to you and corresponds best to your desired price point. Some gyms in this list have group lessons or a spa and others are focussed on providing you with just the fitness facilities.
Now, we all know that abs are made in the kitchen and nobody is here to argue with that. You need to stay healthy and drinking unlimited amounts of beer every Tuesday night is not going to help with that.
You can also check out our article on the best 5 study places in Utrecht (in Dutch) – where to find peace and quiet, the best atmosphere, the hottest coffee and a great environment for writing that essay.
Now, without further ado, here are the 7 best affordable gyms for students in Utrecht:
1. Family Fitness
If you are in the neighbourhood, Family-Fitness is a great addition to your daily routine. They offer a € 20,00 membership for students which includes:
Unlimited fitness visits

Group lessons

Spinning

Swimming

Sauna
It's the perfect combination of activities for a great price making it a really affordable gym for students in Utrecht. You are not limited to using only the gym, you can dive in the pool and break a sweat in the sauna whenever you want!
You have the opportunity to apply and get a one-week free pass. This allows you to try out the facilities and see if you like the gym before you commit to a subscription.
In the building of Family-Fitness, there is also a sports cafe so you can grab a bite or a hot beverage after a great workout or while waiting for the group lesson to start.
Opening times:
| | |
| --- | --- |
| Mo, wed & fri | 09:00 – 22.00 |
| Tue & Thu | 07:00 – 22:00 |
| Saturday | 09:00 – 15:00 |
| Sunday | 09:00 – 14:00 |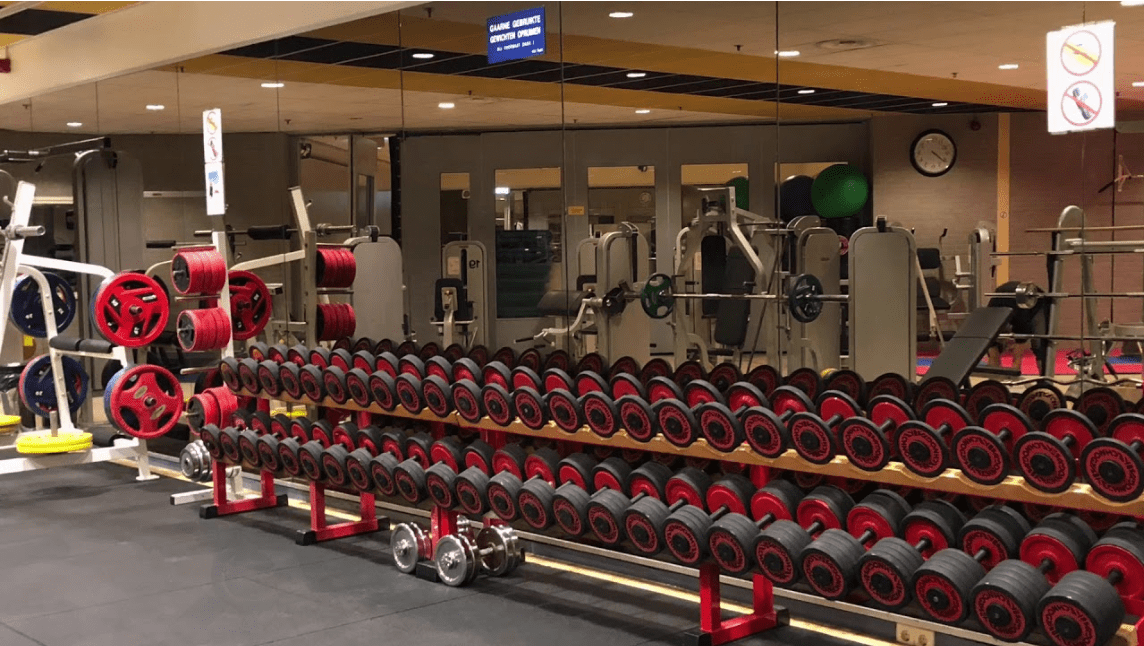 ---
While taking care of yourself and staying healthy are important for your overall well being , finding a job or an internship after your studies are important too. Have you started thinking about this yet? If not, now is the right time. Check out Magnet.me for jobs, traineeships and internships in Utrecht and throughout the Netherlands.
---
2. Klarita-Fit
Klarita-Fit is a nice, small and affordable gym which is more suited towards females and also offers group lessons. You can get a subscription of € 21,00 for unlimited fitness visits or unlimited group lessons, or € 28,50 for both.
Their slogan is "Get fit, don't quit!"
So even if you give in to your doughnut cravings when AH has 50% discounts, remember not to give up and instead go to some Latin dance classes or lift some weights. Klarita-fit is a suitable and affordable gym for that.
Opening times:
| | |
| --- | --- |
| Monday | 8:30 – 14:00 & 17:00 – 21:30 |
| Tuesday | 17:00 – 21:30 |
| Wednesday | 8:30 – 14:00 & 17:00 – 21:30 |
| Thursday | 17:00 – 21:30 |
| Friday | 14:00 & 17:00 – 21:30 |
| Saturday | closed |
| Sunday | 9:30 – 14:00 |
Confusing, we know.
Men are welcome Tuesdays and Thursdays from 9.30 pm till 11 pm and between 7 pm and 10 pm on weekends. (even more confusing… it's best to just call them when in doubt, okay?)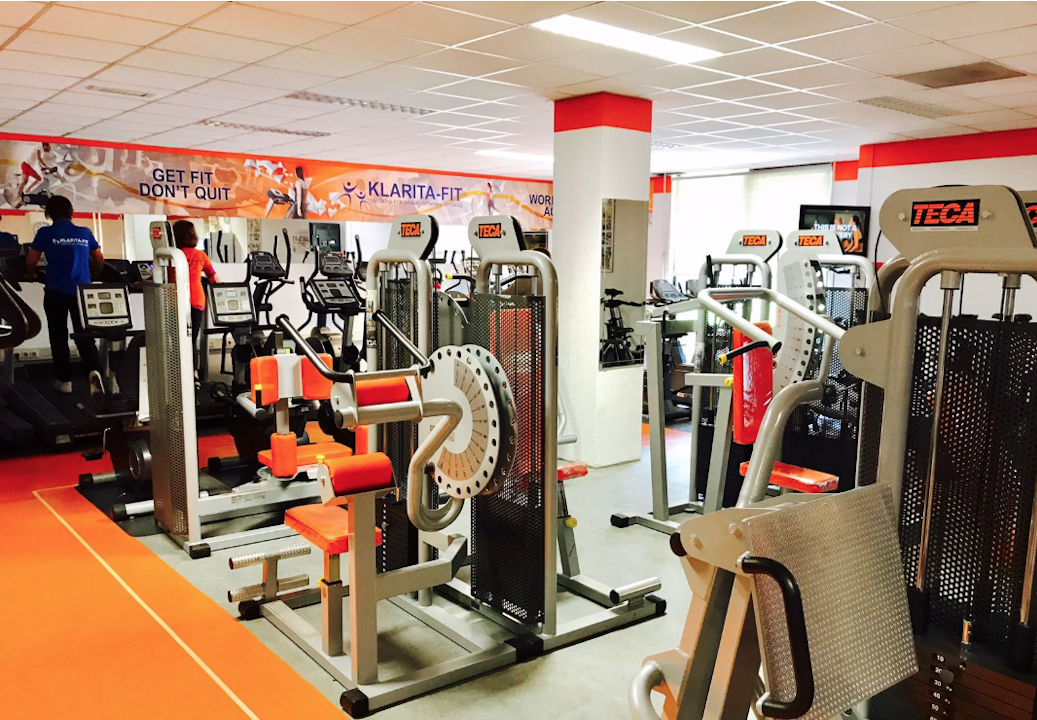 3. Basic Fit
There are two Basic-fit gyms in Utrecht and let us tell you – they are both quite big! So there is space for everybody, you can easily unleash the beast and go wild in that affordable gym.
Listen, we get that you don't have major gaps of free time to go all out in the gym. But you know what? Your body needs to destress and to see something else than pre-ready noodles for the sake of your health.
The thing with Basic-Fit (and probably some of the other gyms – you'd have to check) is that you need to bring your own lock (yeah, an actual lock that you'd put on Pont des Arts in Paris).
Memberships start at €19.99 for 4 weeks which includes access to the virtual assistant and group lessons. What's even better is that if you have a roommate, you can share the pass with them for €29.99. How cool is that? They have some extra benefits like a free sports bag when you sign up (at this moment, at least) and 6 weeks doing sports for free.
Since Basic-Fit is a chain, it is always a benefit to be part of their gyms because you can visit friends in Amsterdam or Antwerp for the weekend and still go to the gym there. Hell, even in Spain they have it.
Another great benefit of Basic-Fit is that it opens quite early throughout the week so you can always go and do some exercises before your first lecture (Gosh, who are we kidding).
Opening times:
| | |
| --- | --- |
| Monday – Friday | 7:00 – 22:30 |
| Sat & Sun | 9:00 – 16:00 |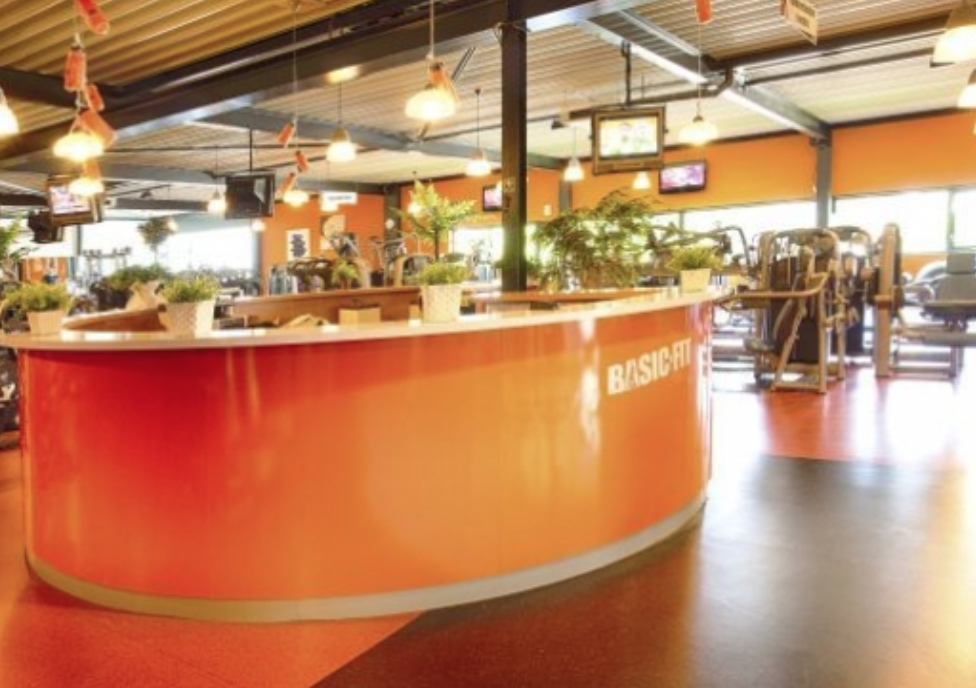 4. Fitness Factory
Fitness Factory is one fine-looking gym. So if you want more than just your basic establishment, this is the place to be. It is a relatively affordable gym for students in Utrecht, too!
Fitness Factory is in a great central part of the city of Utrecht and surrounded by all kinds of bars, lunch places and restaurants. Do not give in to your cravings, that is why you are out of the house, not to binge on nachos and Starbucks.
The subscriptions in Fitness Factory start from €12,95 for visiting the gym during off-peak hours, €17,95 for unlimited gym visits and €22,95 for unlimited group lessons and gym visits. Jokes, right? That's what makes Fitness Factory one of the best affordable gyms for students in Utrecht.
Keep in mind that those prices are valid if you take a year subscription. If you want to pay monthly, it is € 27,95 for unlimited group lessons and fitness visits which is not too bad.
Anything to get you off the books, right?
Opening times:
| | |
| --- | --- |
| Mo – fri | 08:00 – 22:30 |
| Sat & sun | 08:30 – 19:30 |
5. Gym4all
Gym4all is a local and authentic gym club that offers student subscriptions specifically for a 12-month period (€ 13,50 a month) and a 6-month period (€ 14,50 a month).
Some of the benefits that you get with your subscription are:
Direct short coaching in the room

Personal Training and guidance on request

Wide range of well-maintained fitness equipment

Nutrition tips from certified trainers

Regular addition of new devices to keep up with developments (such as the HGR, Classic row bench, T-bar row, dumbbells up to 50 kilos, deadlift platform)

Opens at 7 am during weekdays
Now, these benefits can impress you only as much as you care about them. Though, it's good to know that you are making a bang for your buck. And you know, maybe the fact that there are certified professionals on the spot makes it easier and more motivational for you to stay fit. They can give you professional advice based on your body and goals. Probably that Pringles can under your bed won't be included in your food schedule, but oh well – details.
Hands down, one of the best affordable gyms for students in Utrecht, though.
Opening times:
| | |
| --- | --- |
| Mo – fri | 7:00-22:30 |
| Saturday | 9:00-16:00 |
| Sunday | 9:00-22:30 |
6. De Workout
Right in the middle of a busy street (full of coffee places) is where you can find the De Workout gym. With a great interior, it gives you fancy vibes and this reflects in the price accordingly.
The membership for regular students is € 38.50 per 4 weeks (with currently offering 4 weeks for free). You, again, get coaching from professionals with guidance towards reaching your goals, but what stands out is the number of group lessons and classes you can take. They have everything from bodypump to yoga.
We do recommend you check it out because if you are not the "fitness only" kind of a person and you easily get bored in the gym, maybe this can be something for you. And the fact that you are paying more than twenty euros per month might give you that extra motivation to go out of the house occasionally.
Opening times:
| | |
| --- | --- |
| Mo – thu | 9:00-22:30 |
| Friday | 9:00-21:00 |
| Sat & sun | 9:00-16:00 |
7. TrainMore
TrainMore is a relatively new gym in the Netherlands that is slowly taking over all Dutch cities with its new and attractive deals, as well as its professional appearance.
TrainMore has a few different membership options, but one of the most interesting ones is the 'every workout counts' membership. This membership costs € 29 a month, which is a little bit more pricey than most student-memberships, however… for every single time you visit the gym for a workout, you get a € 1 discount on your next month's payment!
So let's say you work out 15 times in one month, then the next month you only pay € 14! And if you're really determined you could even go everyday and get your membership for free! As a student this might be unlikely, but not impossible!
TrainMore Utrecht has two locations:
Janskerkhof

Stationsplein
Opening times:
| | |
| --- | --- |
| Mo – fri | 07:00 – 22:00 |
| Sat & sun | 09:00 – 16:00 |
8. Raw Gym
Last but not least, is another well-developed, good-looking gym in the city of Utrecht. Still, one of the most suitable gyms for students, despite the slightly higher price point.
This is the most expensive gym from the list – € 44,95 per month with personal trainers, group lessons and unlimited fitness visits. What justifies the price? The facilities and the number of different group lessons, of course.
For people that don't care much about group lessons, this subscription will not be anything special. But for you that might not be the case, since you just want to stay in shape and be healthy, so a variety of different activities might be the answer for you.
And less sodium and processed foods, of course, but hey, who are we to decide?
Opening times:
| | |
| --- | --- |
| Mo, wed, thu | 7:15-0:00 & 5:30-22:00 |
| Tuesday | 5:30-22:00 |
| Friday | 8:00-0:00 & 17:00-20:00 |
| Saturday | 8:30-0:00 |
| Sunday | 9:00-0:00 |